Sessions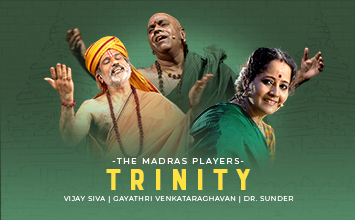 THE MADRAS PLAYERS
PRESENTS
'TRINITY'
THE MADRAS PLAYERS and the journey to TRINITY
As the oldest English theatre Company in India, with a track record of 65 years and 200 + productions, The Madras Players have been among the pioneers in showcasing Indian writing on stage, in translation, adaptation or original. Starting with the plays of Badal Sircar, Mohan Rakesh, Vijay Tendulkar and Girish Karnad in the 70's, we have gone on to celebrate the works of several prominent south based writers… Kalki Krishnamurthi, R.K. Narayan, Indira Parthasarathi, Sivasankari, etc. Komal Swaminathan's "Water" and R. Chudamani's "Chudamani" , produced by us recently, have taken the world of theatre by storm, the latter becoming our longest running play at 2 years.
TRINITY Synopsis
TRINITY is based on 3 beautiful stories of Seetha Ravi on our legendary music composers, Thyagaraja, Dikshitar and Shyama Sastri. Translated by Prabha Sridevan from the Tamil, these stories are woven into one seamless fabric, dramatized and directed by P.C.Ramakrishna. It is for the first ever time in English theatre in India, that "Live" Carnatic music is featured, with prominent concert singers taking on the different roles. Vidwan Vijay Siva, Vidushi Gayathri Venkataraghavan and Vidwan Dr. Sunder lead the galaxy of singers and actors in the play.
PARIMALA RANGANATHAR
Muthuswami Dikshitar goes from one holy Kshetra to another with his disciples, composing songs on the deity, legend and temple of the place. At the Parimala Ranganathar temple in Indalur, however, he composes 2 Krithis in Hamir Kalyani Raga, with the same pallavi but different Charanams. Why he does so is the focus of the story.
SHYAMA KRISHNAN
Lalitha, wife of Shyama Sastri waits endlessly for her husband's return from the temple. Her conversation with her neighbor Dharmambal reveals the poignancy of her predicament. Does Shyama Sastri return?.....The story provides the answer.
KEERTHI VILAASAM
Thyagaraja's daughter Seethamma is to be married shortly. In a dialogue with her father she asks many questions on whether he actually saw Sri Rama. The scene ends with Thyagaraja revealing the secret of why he uses the "mudra" of his name in all his compositions.
TRINITY takes you to the 18th century and explores three relationships, Guru and his disciples, husband and wife and father and daughter in varied emotions through music which is the centrepiece. The characters themselves sing, making the entire experience very different and unique to what our audiences have seen.
Read More
Featuring
The Madras Players
Theatre
Gayathri Venkataraghavan
Vocal (Carnatic)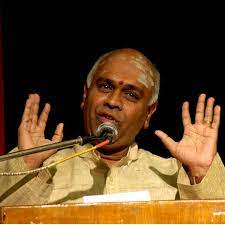 N Vijay Siva
Vocal (Carnatic)